4 Jul 2020

Specialist UK Mortgages...

Annual house price growth remains firm in October
House prices up by 0.7% in October
Typical house price £12,500 higher than this time last year
Annual returns on equities outperforming house prices
House price expectations moderating
| | | |
| --- | --- | --- |
| Headlines | October 2006 | September 2006 |
| Monthly index * Q1 '93 = 100 | 339.2 | 336.8 |
| Monthly change* | 0.7% | 1.3% |
| Annual change | 8.0% | 8.2% |
| Average price | £169,623 | £169,413 |
* seasonally adjusted
Commenting on the figures Fionnuala Earley, Nationwide's Group Economist, said:
"Following a sharp increase during September, the monthly rate of growth of house prices cooled in October. House prices increased by 0.7% during the month, just over half the rate of the 1.3% increase seen in September. However, the underlying trend in house prices is still firm. While the annual rate of growth moderated from 8.2% to 8% in October, the three-monthly growth rate increased to 2.6%. This is its fastest pace since September 2004 and brings the price of a typical house in the UK up to £169,623 - more than £12,500 higher than at this time last year.
"Recent housing market indicators have been firm, and the latest approvals data from the Bank of England show that the August rise in interest rates did nothing to curb demand. The number of house purchase approvals increased to 126,000 in September, the highest rate of monthly activity since February 2004 when house prices were increasing at an annual rate of 17.1%. However, September also saw a big fall in the balance of estate agents reporting an increase in new buyer enquiries and net sales. While the relationship between these and house purchase approvals is far from perfect, it could suggest that we will see some slowing in approvals in the next few months.
Equities outperforming housing…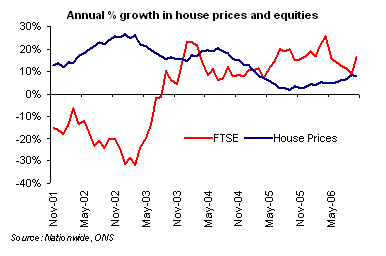 "Worsening affordability and expected increases in interest rates will affect both homebuyers and property investors. For investors property is simply an asset in the same way as equities or bonds and the investment decision will depend on the relative returns. Higher prices and interest rates reduce yields and as annual net yields are already negative in some parts of the country , the current environment makes it more likely that investors will look for alternative investments to housing. Equity prices have been growing faster than house prices since April 2005, but this has not yet stemmed the appetite for housing investment. This could be because volatility in the stock market means that investors need to see a sustained period of positive growth before feeling confident enough to switch their allegiances.
"With the expectation that the economy will remain in good shape in 2007, prospects for continued positive growth in both the housing and equity markets look fairly good. However, while property prices are at an all time high, the value of the equity market has only just returned to 2000 levels after reaching a trough in 2003. Some may therefore believe that the potential for future growth in the stock market could be rosier than for the housing market. At the margins this could now encourage some investors to begin to switch their preferences towards equities.
…and expectations of house price growth are moderating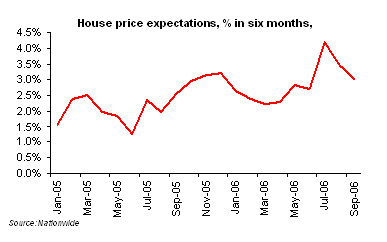 "Expectations of short term future capital growth have been captured in Nationwide's Consumer Confidence Survey since May 2005. Over that time expectations have been trending up and this may help to explain the robust demand we have seen. However, the most recent results show a fall in the expectation of future house price growth. While consumers expected prices to increase by 4.2% in the six months after June (the equivalent of an annual rate of around 9%) by September this expectation had fallen to the equivalent of an annual rate of around 6%. Although still positive, the fall in the expected capital gain will affect buyers' decisions.
"Rising interest rates, worsening affordability, falling yields on housing investments and lower expectations of future house price growth are all factors that we expect will slow the market in the coming months. However the momentum that has built up in the market means that we can still expect to see relatively strong annual rates of growth in the short term."
Fionnuala Earley Natalie Tate/Jackie Lawrence
Group Economist Media Relations Managers
Tel: 01793 656370 Tel: 01793 655354
Mobile: 07985 928029 Mobile: 07725 680332
fionnuala.earley@nationwide.co.uk natalie.tate@nationwide.co.uk/
jackie.lawrence@nationwide.co.uk
YOUR HOME MAY BE REPOSSESSED IF YOU DO NOT KEEP UP REPAYMENTS ON YOUR MORTGAGE
Think carefully before securing other debts against your home, your home may be repossessed if you do not keep up repayments on your mortgage.
Go Direct.co.uk is a trading style for website purposes of Go Direct UK Ltd.
Go Financial Services is a trading style of Go Direct UK Ltd which is an appointed representative of Personal Touch Financial Services Ltd which is authorised and regulated by the Financial Conduct Authority. Registered in England & Wales Company 5703224. FCA Number 456600
We normally do not charge a fee for mortgage advice, however this is dependent on your circumstances. Our typical fee would be £500