4 Jul 2020


Housing market still refusing to cool
House prices jump 1.4% in November
Significant momentum still in the market
Economy still supportive and interest rates may have peaked at 5%
Expectations are key to warnings of house price falls
| | | |
| --- | --- | --- |
| Headlines | November 2006 | October 2006 |
| Monthly index * Q1 '93 = 100 | 344.7 | 339.9 |
| Monthly change* | 1.4% | 0.8% |
| Annual change | 9.6% | 8.0% |
| Average price | £172,185 | £169,623 |
* seasonally adjusted
Commenting on the figures Fionnuala Earley, Nationwide's Group Economist, said:
"House prices jumped by 1.4% in November as the housing market refused to cool. As a result, the annual rate of growth rose to 9.6%, up from 8.0% last month. This is the highest rate of annual house price growth since February 2005 and means that house prices are £15,046 higher than twelve months ago, the equivalent of a £41 rise per day. This brings the price of a typical house up to £172,185.
"The second half of 2006 has so far seen average monthly increases of 1.1%, almost double the 0.6% in the first half of the year and much higher than the average 0.2% per month in 2005. Looking forward, current housing market indicators are firm and do nothing to dent the prospect of further rises in house prices in the very short term. House purchase approvals increased again in October to reach their highest level since December 2003 when prices were increasing at an annual rate of 15.6%. Some cooling seemed to be in prospect when the growth of buyer enquiries fell quite sharply in September, but this pause in demand was short-lived. At the same time, stocks of properties for sale are at a two-year low leaving buyers chasing relatively few properties. With instructions still falling, there is no immediate improvement in supply conditions in sight.
Risk of further rate rises has receded …
"Furthermore, the outlook for the UK economy remains firm. The MPC expects the economy to grow by around 3% next year and, more importantly, it has revised up its estimate of trend growth. While the Bank of England, as expected, raised rates to 5% in November, its analysis suggests a lower likelihood of a further increase in rates in the short term. Of course, there are upside risks over the next few months. These stem largely from the labour market and the crucial pay settlement round in January, but also the possibility that the housing market will feature more strongly in the MPC's discussions. While a rate rise cannot be ruled out, it seems less likely than it did a few weeks ago and we maintain our view that interest rates are likely to have peaked at 5%.
… but warnings of possible house price falls emerge.
"A sustained period of rapid house price growth when affordability is stretched automatically leads to speculation about when prices may begin to fall. Research papers from two respected camps have warned that a market correction cannot be ruled out, although the precise timing cannot be predicted.
"We have also argued before that affordability must eventually bite which limits the prospects for rapid nominal house price gains to continue far into the future. However, the likelihood and size of any fall will depend on how overvalued the market already is. In June we estimated that there was a modest level of overvaluation, based on the view that much of the fast run-up in house prices over the past decade can be explained by fundamental economic drivers such as supply shortages, growth in incomes and lower interest rates, rather than a large speculative bubble.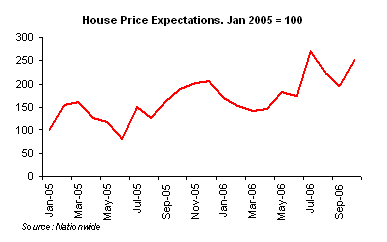 "Looking forward the prospects for the rate of continued growth will depend partly on expectations. As last week's research suggested , if people believe that strong increases in house prices will be repeated, their incentive to buy is increased. Buyers will be willing to face large costs now with the expectation that these will be outweighed by future capital gains. Clearly the size of the expectation has a bearing on how long people will continue to stretch themselves. For now, Nationwide data on house price expectations show a rise in house price expectations over the past year, but the key question is whether expectations will moderate or become negative in the near future and, if so, how quickly this will impact on the market.
"If confidence in the market evaporates, the expected return on buying could fall sharply as there would be less expected capital gain. This could rapidly affect the buy-to-let sector which has been rising in importance in the UK market. ARLA currently builds in a fairly strong expected annual house price growth assumption of 8.6% in its calculations resulting in overall returns on a 5 year geared investment of around 22%. If expected gains were to fall to around the level of earnings growth, with everything else staying the same, the total returns halve. This presents quite a different investment proposition.
"While it seems clear that expectations are an important influence on house price growth the tricky question is how homebuyers form these expectations. With interest rates likely to have peaked at 5% and the economy growing at a stable rate there is no obvious trigger that would lead to a sudden loss of confidence. The labour market in particular is stable. With growing employment and steady growth of earnings, forced sales will be kept to a minimum. And with the UK's slow housing supply response, demand in the market is likely to remain fairly firm for the time being."
Fionnuala Earley Zoe Stevens
Group Economist Press Officer
Tel: 01793 656370 Tel: 01793 655423
fionnuala.earley@nationwide.co.uk zoe.stevens@nationwide.co.uk
Average UK House Price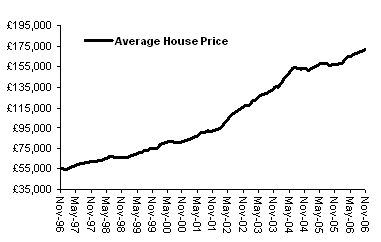 Long Term Real House Price Trend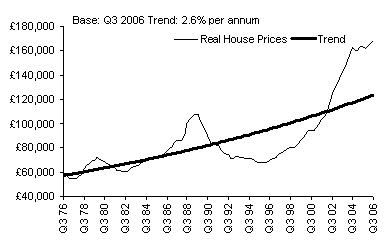 3 months on previous 3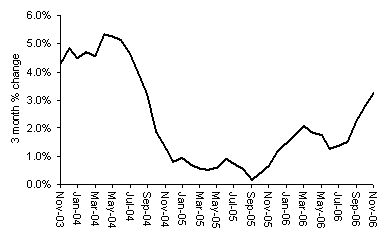 Annual % Change in House Prices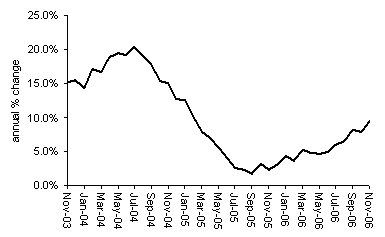 Historical Data (2)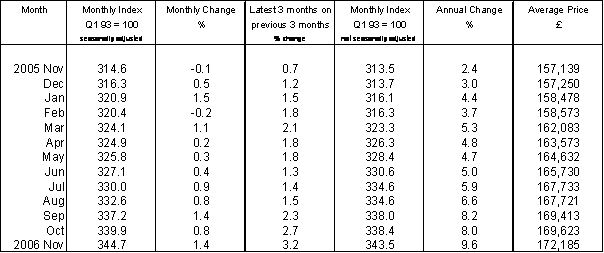 Notes:
Indices and average prices are produced using Nationwide's updated mix adjusted House Price Methodology which was introduced with effect from the first quarter of 1995. Price indices are seasonally adjusted using the US Bureau of the Census X12 method. Currently the calculations are based on a monthly data starting from January 1991. Figures are recalculated each month which may result in revisions to historical data.
The Nationwide Monthly House Price Index is prepared from information which we believe is collated with care, but no representation is made as to its accuracy or completeness. We reserve the right to vary our methodology and to edit or discontinue the whole or any part of the Index at any time, for regulatory or other reasons. Persons seeking to place reliance on the Index for their own or third party commercial purposes do so entirely at their own risk. All changes are nominal and do not allow for inflation.
YOUR HOME MAY BE REPOSSESSED IF YOU DO NOT KEEP UP REPAYMENTS ON YOUR MORTGAGE
Think carefully before securing other debts against your home, your home may be repossessed if you do not keep up repayments on your mortgage.
Go Direct.co.uk is a trading style for website purposes of Go Direct UK Ltd.
Go Financial Services is a trading style of Go Direct UK Ltd which is an appointed representative of Personal Touch Financial Services Ltd which is authorised and regulated by the Financial Conduct Authority. Registered in England & Wales Company 5703224. FCA Number 456600
We normally do not charge a fee for mortgage advice, however this is dependent on your circumstances. Our typical fee would be £500