4 Jul 2020

Specialist UK Mortgages...

Rain fails to stop play in June's housing market
House price growth bounced back in June, increasing by 1.1% during the month
Prices increasing more than twice as fast as last year, at the equivalent of £50 a day
Rate of growth will slow in second half of year; we stick with our forecast of 5-8% growth in 2007
Gordon Brown's increased focus on housing is welcome, but the implications of any changes to buy-to-let taxation need to be carefully thought out
| | | |
| --- | --- | --- |
| Headlines | June 2007 | May 2007 |
| Monthly index * Q1 '93 = 100 | 367.2 | 359.2 |
| Monthly change* | 1.1% | 0.5% |
| Annual change | 11.1% | 10.3% |
| Average price | £184,070 | £181,584 |
* seasonally adjusted
Commenting on the figures Fionnuala Earley, Nationwide's Chief Economist, said:
"While June's heavy rain dampened the first days of Wimbledon, it did little to check the vigour of the housing market as house price inflation bounced back during the month. House prices increased by a stronger than expected 1.1% in June - the fastest monthly increase in 2007. The pick up during the month brings the annual rate of house price inflation to 11.1%, its highest level since January 2005 and more than twice as fast as the pace of growth at this time last year. The price of a typical house is now £184,070, more than £18,000 higher than this time last year, which is the equivalent of a rise of more than £50 per day.
Housing market strength adds to rate rise pressure…
"The resilience of the housing market will be another component to add to the rate rise camp's argument. Earlier house price data had shown the start of a slowing in the market, but while too much emphasis should not be placed on one month's figures, the fact that today's data shows a bit of a bounce will add to the upside risks being counted up at the Bank of England. While we expected interest rates to increase to 5.75% in August, this news, together with the revelation that rates remained on hold by only the narrowest of margins in June, will set the stage for that rate rise to move forward to July and for the risk of a rise to 6% to increase significantly.
…but a measured approach may still be appropriate
"However, while upside risks to rates are clear, there are factors which may mean that the interest rate response will still be measured. The most important is the squeeze on consumers' incomes. Real earnings growth is negative and household disposable income growth is negligible, both of which will limit consumers' spending. Furthermore, as mentioned in the MPC minutes, higher household debt levels may have increased the impact of interest rate changes, so if the full effect of earlier rate rises has yet to fully work through, the brakes are still being applied even before the rise expected in July.
Pressure for higher interest rates causing housing demand to wane…
"Clearly the MPC is keen to reassert its inflation credentials, so until there is categorical evidence that inflationary pressures are subsiding, it will remain vigilant and the risks to rates will remain on the upside. This will keep financial market rates (the important ones for mortgage pricing) higher too. The hawks on the MPC further believe that the rate of economic growth needs to come back below trend to be able to achieve the inflation target. Higher interest rates will add to the squeeze on demand in the housing market in the short term helping to reduce the rate of growth in the second half of this year. Lower economic growth would also keep a lid on demand in the medium term.
"In spite of the bounce in June's data we still believe that the underlying trend in house price growth is softening. House purchase approvals fell back to 107,000 in April, their lowest level for a year, and while there may be a small rebound in May other data at the very start of the chain suggests that the trend is down. Estate agents are continuing to show a fall in the number of new buyer enquiries and house builders are also registering falls in the numbers of site visitors. Furthermore, in the rental market,yields for new entrants to the buy-to-let market are being squeezed significantly. This will slow the growth of this sector and also take some pressure off house price growth. We therefore stick with our forecast of 5%-8% growth in UK house prices in 2007. Of course across the UK there will be significant differences in house price growth. London, in particular, will lead the English regions. Demand in the capital reflects both strong local economic conditions and the preferences of wealthy overseas investors.
Brown's housing focus is welcome…
"Gordon Brown has already made clear that he wants to make housing a priority in his government and has already announced that he will make space for a housing minister in the Cabinet. Given the issues with affordability and supply in the market, which prevent many from achieving their home-ownership goal, increased focus on how to get over these issues and remove any other market distortions is very welcome.
…but new measures must be well thought out
"There has been much fuss recently about the impact of the buy-to-let market on affordability for first-time buyers and in particular the tax treatment of buy-to-let borrowers against owner-occupier borrowers. Buy-to-let landlords can offset their mortgage interest payments and maintenance costs against their rental income meaning that they only pay tax on any residual rental income after these have costs have been taken care of. Some estimates have put the tax saving to landlords as high as £2bn. While such reliefs are commonplace in other areas of business, they come under more scrutiny in the housing market where the ability to make large capital gains, partly due to the lack of supply of property, is a controversial issue.
"If Gordon Brown were to do something radical in this area, any policy he chose would have to be carefully thought out and introduced in a measured fashion. Given the rapid growth in the buy-to-let sector in recent years a dramatic change to the financials for landlords, particularly in a period of rising interest rates, could lead to some uncomfortable consequences. A large withdrawal from the sector, either as a result of reduced ability to pay, or because changes made yields much less favourable compared with other investments, could rapidly change the dynamic of the housing market. An ill-thought out measure which flooded the market with property could do more to destabilise the market for all borrowers rather than just make it a more affordable prospect for new entrants."
Fionnuala Earley Katie Harper
Chief Economist Media Relations Manager
Tel: 01793 656370 Tel: 01793 656215
fionnuala.earley@nationwide.co.uk katie.harper@nationwide.co.uk

Average UK House Price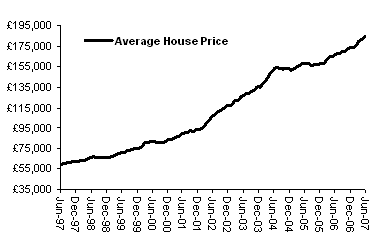 Long Term Real House Price Trend


Annual % Change in House Prices

3 months on previous 3 months % change


Historical Data (2)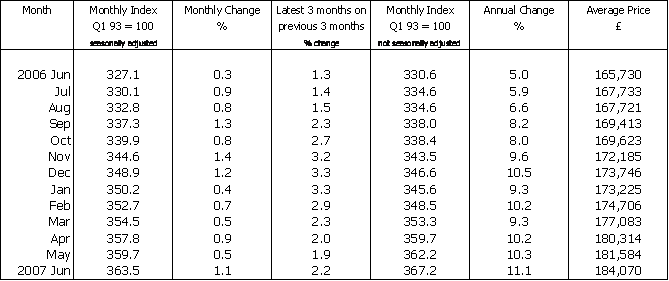 Notes:
Indices and average prices are produced using Nationwide's updated mix adjusted House Price Methodology which was introduced with effect from the first quarter of 1995. Price indices are seasonally adjusted using the US Bureau of the Census X12 method. Currently the calculations are based on a monthly data starting from January 1991. Figures are recalculated each month which may result in revisions to historical data.
The Nationwide Monthly House Price Index is prepared from information which we believe is collated with care, but no representation is made as to its accuracy or completeness. We reserve the right to vary our methodology and to edit or discontinue the whole or any part of the Index at any time, for regulatory or other reasons. Persons seeking to place reliance on the Index for their own or third party commercial purposes do so entirely at their own risk. All changes are nominal and do not allow for inflation.
YOUR HOME MAY BE REPOSSESSED IF YOU DO NOT KEEP UP REPAYMENTS ON YOUR MORTGAGE
Think carefully before securing other debts against your home, your home may be repossessed if you do not keep up repayments on your mortgage.
Go Direct.co.uk is a trading style for website purposes of Go Direct UK Ltd.
Go Financial Services is a trading style of Go Direct UK Ltd which is an appointed representative of Personal Touch Financial Services Ltd which is authorised and regulated by the Financial Conduct Authority. Registered in England & Wales Company 5703224. FCA Number 456600
We normally do not charge a fee for mortgage advice, however this is dependent on your circumstances. Our typical fee would be £500