4 Jul 2020


House price growth to remain firm in 2007
House prices will remain firm in 2007, rising between 5-8% during the year
Momentum in demand from 2006 and a shortage of supply will support prices in the early part of the year
But deepening affordability problems and cutbacks at the Bank of Mum and Dad will cause a sharper cooling and a lower outturn by the year end
London and the South East will drive the market, while price growth in the North, Midlands and Wales will be fairly flat.
Northern Ireland and Scotland should expect to see much slower house price growth in 2007
Commenting on the figures Fionnuala Earley, Nationwide's Group Economist, said:
"Nationwide expects the rate of house price growth in 2007 to be relatively robust at between 5% and 8%. Momentum gathered in 2006 will flow into the early part of 2007, and this will be supported by a buoyant economy, stable interest rates and a continuing shortage of housing supply. We can therefore expect to see a few months of double-digit annual house price inflation in the first half of the year. However, increasingly poor affordability and likely cutbacks at the Bank of Mum and Dad will cause the rate of house price growth to move back into single digits in the latter part of the year.
"The recovery of London and its surrounding areas will play an important part in the profile of house price growth in 2007. We expect house prices in London to lead the way and increase by 10%, partly reflecting the relative underperformance of the capital in the earlier part of 2006. Some of the rest of the increase will be driven by strong demand at the top end of the market as London asserts itself as a major global centre for financial services. The success of the financial markets has benefited the London economy and high bonuses can be expected to add a further boost, while investment in infrastructure in the run up to the Olympics and the completion of other central London developments will also support prices in the capital.
"The North and Midlands can expect to see more modest growth than the South with house prices growing at around 3-4% in line with earnings growth, but also reflecting that housing supply shortages are not evenly spread across the UK. The more severe housing shortages are in the south of the country while in the North, Wales, Scotland and Northern Ireland there is much less of a mismatch.



"Northern Ireland and Scotland cannot expect to see house price growth on the scale experienced in 2006. Such strong rates of growth are supported by the recent strength in both economies' labour markets and also reflect some element of catch-up as the earnings gap to the UK in both countries has narrowed over the last three years. However, such rapid growth rates are not sustainable in the longer term. We expect house price growth of around 9% in Scotland and 12% in Northern Ireland in 2007."
Economic conditions will remain supportive
"Overall the economic background in 2007 will be fairly supportive for the housing market. On balance we expect interest rates to remain at 5% during the year in spite of the risk that higher inflation will feed into pay settlements. This is largely because higher levels of immigration and labour force participation have kept wage inflation subdued until now but also because we see some vulnerability in the outlook for consumer spending. On the one hand, these ease inflationary pressures and reduce the need to raise interest rates again. On the other, stretched budgets mean that affordability will continue to worsen and this will contribute to the slowing in the housing market that we expect in the second half of the year.
Momentum in the market will support house prices in early 2007, but this will fade in the second half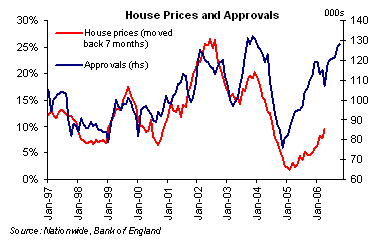 "Tight demand conditions reported by estate agents in the latter part of this year have not yet shown any signs of easing and this will support house price growth early next year. Due to inherent lags in the response of the housing market, a rise in mortgage approvals tends to be reflected in higher house price inflation around seven months later. If the relationship holds, this would suggest that house price inflation will continue to accelerate in the first few months of 2007, but will cool more sharply in the second half of the year as house purchase approvals weaken.
...but higher prices and cutbacks at the Bank of Mum and Dad will hit first-time buyers
"We expected affordability to squeeze first-time buyers out of the market earlier in 2006, partly because of higher house prices and mortgage rates, but also because of the size of the deposit required. Deposits, rather than debt repayments, are the bigger hurdle. Someone on average earnings would need to save for around four and a half years to raise almost £14,000 for a deposit on a typical first-time buyer home. Cash for deposits clearly came from somewhere during 2006 and parents seemed increasingly to be a source. Around 50% of first time buyers were thought to have been assisted in their purchases in 2005 and this can only have increased in 2006. Looking to 2007, as house prices continue to increase faster than earnings we expect to see a further gradual fall back in the numbers of first-time buyers as prices move away from them. While parents will continue to help their children financially, the higher deposits required as prices increase may mean fewer will be willing or able to assist in the future, especially if there are several siblings to support.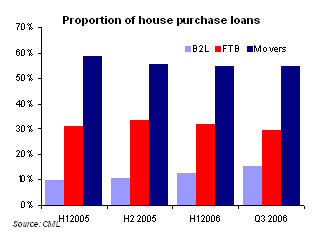 Buy-to-let likely to remain a feature of the market
"2006 saw the buy-to-let market grow very rapidly with strong tenant demand resulting from high levels of immigration and frustrated buyers. This, along with a shift in preferences towards buy-to-let as an investment and the growth of buy-to-let financing, helped to shore up demand for property and so support house price growth. Demand from buy-to-let purchasers more than replaced the fall back in the number of the first-time buyers priced out of the market. Buy-to-let purchases accounted for about 10% of all house purchases in 2005; by the third quarter of 2006 this proportion had increased to 16%.
"Looking into 2007, higher house prices and interest rates mean the gross yields available on new buy-to-let purchases are less favourable than they were this time last year. However, with stronger tenant demand, void periods should be lower than in the past. Professional landlords already in the market also have the option to gear up their portfolios to stay in for the longer term as renting becomes more popular. However, the extent to which they do so will depend on their expectations of future house price growth and the rate of return on alternative investments. While the expected house price growth of 5-8% in 2007 is fairly firm, with a weakening profile into 2008 we may see some moderation in demand from the buy-to-let sector too.
…but supply issues will be the most important supportive factor
"On top of the demand factors, probably the biggest factor supporting the UK housing market is the lack of housing supply. The UK has a notoriously slow supply response, which the Barker Review of Land Use Planning is hoping to address, but in the meantime there are not enough new houses being built for the numbers of people that want to live in them. This undoubtedly put upward pressure on prices in 2006 and is likely to continue to do so in 2007. Government figures, based on conservative migration assumptions, project that 209,000 households will be formed a year. At current completion rates less than 160,000 new dwellings will become available in 2006 - a shortfall of around 50,000. The situation is unlikely to ease in the short-term as new dwelling starts are currently running at only 45,000 per quarter. It will therefore take some time for the supply issue to be addressed, even assuming that the conservative immigration assumptions are correct.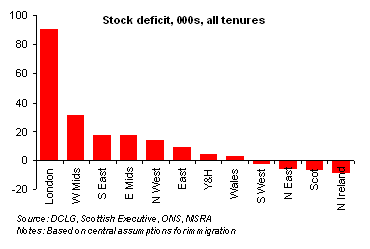 "The risks around this forecast are largely on the downside. While economic fundamentals are fairly supportive and incomes are growing, other calls on income are increasing which limits the potential for strong future demand. An unexpectedly sharp increase in interest rates could affect market sentiment quickly and cause house price growth expectations, and thus speculative demand, to fall sharply. But as we have said before, there is no obvious trigger for this.

Fionnuala Earley Jackie Lawrence
Group Economist Media Relations Manager
Tel: 01793 656370 Tel: 01793 655354
Mobile: 07985 928029 Mobile: 07725 680358
fionnuala.earley@nationwide.co.uk
jackie.lawrence@nationwide.co.uk
YOUR HOME MAY BE REPOSSESSED IF YOU DO NOT KEEP UP REPAYMENTS ON YOUR MORTGAGE
Think carefully before securing other debts against your home, your home may be repossessed if you do not keep up repayments on your mortgage.
Go Direct.co.uk is a trading style for website purposes of Go Direct UK Ltd.
Go Financial Services is a trading style of Go Direct UK Ltd which is an appointed representative of Personal Touch Financial Services Ltd which is authorised and regulated by the Financial Conduct Authority. Registered in England & Wales Company 5703224. FCA Number 456600
We normally do not charge a fee for mortgage advice, however this is dependent on your circumstances. Our typical fee would be £500