7 Jul 2020


Little movement in house prices during January
House prices fell by a modest 0.1% in January, the third consecutive monthly decline
The annual rate of house price inflation edged down from 4.8% to 4.2%
Housing market conditions have loosened further, but there are tentative signs that demand may have bottomed out
| | | |
| --- | --- | --- |
| Headlines | January 2008 | December 2007 |
| Monthly index * Q1 '93 = 100 | 365.9 | 366.4 |
| Monthly change* | -0.1% | -0.4% |
| Annual change | 4.2% | 4.8% |
| Average price | £180,473 | £182,080 |
* seasonally adjusted
Commenting on the figures Martin Gahbauer, Nationwide's Senior Economist, said:
"UK house prices were barely changed in January, recording a modest fall of 0.1% over the month on a seasonally adjusted basis. Although house prices have now fallen for three consecutive months, the price of a typical property is still 4.2% higher than a year ago. However, this figure is down from 4.8% in December and represents the lowest rate of annual house price inflation since December 2005. Highlighting the softness in house prices since November, the 3-month on 3-month rate of price growth fell to -0.3%, down from +0.9% the previous month. The average price of a typical property stood at £180,473 in January, an increase of £7,249 over the last 12 months.
Housing market conditions have loosened in recent months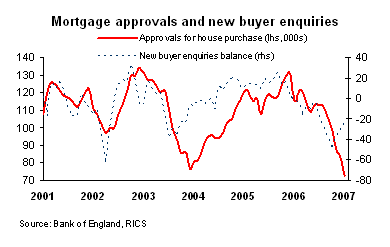 "The weakening trend in house prices during the last three months is consistent with the loosening in housing market conditions that has become increasingly evident in the data. Key indicators such as mortgage approvals and the sales-to-stock ratio have now fallen close to or even below the troughs reached in late 2004, a period that was followed by a year of very subdued price growth. This undoubtedly signals a continued cooling in annual house price inflation during the months ahead. That being said, there may be some tentative signs of bottoming out on the demand side, as evidenced by the recent behaviour of the Royal Institution of Chartered Surveyor's measure of new buyer enquiries at estate agents. This measure is a good leading indicator of mortgage approvals and had been falling steadily since the second half of 2006 in an environment of rising interest rates and worsening affordability. The drop in demand was particularly acute among first-time buyers, who found it increasingly difficult to raise the deposits needed to climb onto the housing ladder. After reaching a low point in September of last year, the buyer enquiries measure saw a modest recovery between October and December. This is not altogether surprising, as some potential buyers who had been priced out of the market may have recently had their interest spurred by expectations of lower interest rates in 2008 and the possibility of their bargaining position improving in looser market conditions. As the year progresses, a key factor to watch will be how much pent-up demand returns to explore the market, and how much of this is translated into actual housing transactions.
A closer look at buy-to-let
"Recent months have seen some increasingly gloomy commentary about the buy-to-let market. While Nationwide is of the view that new demand from buy-to-let investors is likely to weaken in 2008, we do not believe that the long-term fundamentals of buy-to-let are necessarily as poor as recent commentary may suggest.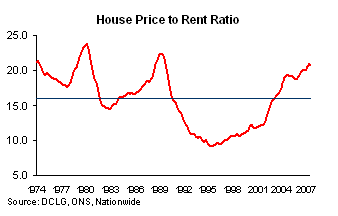 "The most commonly expressed concern about buy-to-let is that the rental yield on property has in many cases fallen below the cost of finance. This development has mainly been the result of house prices rising more quickly than rents, which has been reflected in steady increases of the
price-to-rent ratio. Clearly, if the net rental income on property is not sufficient to cover the cost of a mortgage, investors must depend on house price increases to drive returns, especially in the short run. This reliance on capital gains highlights the importance of house price expectations when examining the buy-to-let sector. House price expectations are inherently difficult to measure, but it is likely that the most recently realised house price inflation plays some role in forming expectations for the future. The concern shared by many is that as we enter a more subdued year for the housing market, investors could revise down their expectations for future house prices and become less willing to invest in property at low rental yields.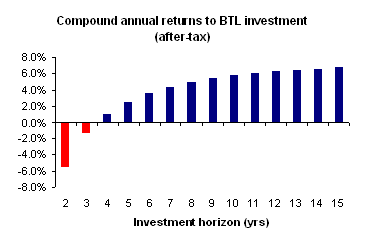 "While such concerns are certainly relevant, they are much more of a factor for those with a short investment horizon rather than for those in it for the long-term. A property investor planning to hold the investment over a long period will benefit from future rental growth and is in a better position to ride out temporary periods of weak capital gains. Making some assumptions about future house price growth, interest rates, rental inflation, maintenance costs and void periods, it is possible to make a simple calculation of the total after-tax return an investor might experience under different investment horizons. Over the last thirty years – which includes several house price cycles – the compound annual growth in nominal house prices has been slightly over 9%. However, under the much more conservative assumption that future house price growth averages only 3.5% per year, a buy-to-let investor holding the property for the longer term could probably still expect reasonable after-tax returns. By contrast, the currently low level of rental yields means that an investor with a horizon of less than 5 years would realise fairly unsatisfactory returns unless house prices continued to rise strongly.
"In light of this illustration, it is of course relevant to ask what the investment horizon of the typical buy-to-let landlord is. This is difficult to pin down accurately, but we do know that the rapid growth of the buy-to-let sector emerged after the equity bear market of 2001-2003, which impacted on confidence in traditional pension schemes. Together with evidence from recent surveys , this suggests that many investors are motivated by longer-term retirement planning rather than the expectation of making a quick gain. If true, there are reasons to be more sanguine about buy-to-let than suggested by recent headlines."
Martin Gahbauer Kate Cremin
Senior Economist Press Officer
Tel: 01793 655434 Tel: 01793 656517 martin.gahbauer@nationwide.co.uk kate.cremin@nationwide.co.uk

Long Term Real House Price Trend
Average UK House Price
Annual % Change in House Prices


3 Months on Previous 3 Months % Change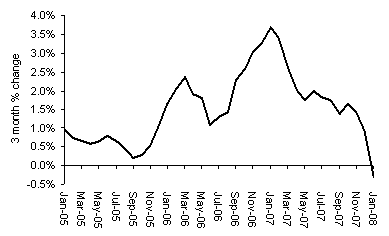 Historical Data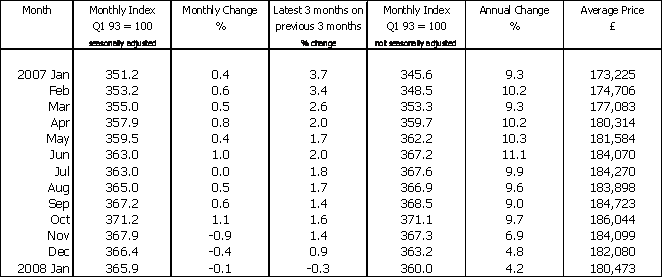 Notes:

Indices and average prices are produced using Nationwide's updated mix adjusted House Price Methodology which was introduced with effect from the first quarter of 1995. Price indices are seasonally adjusted using the US Bureau of the Census X12 method. Currently the calculations are based on a monthly data series starting from January 1991. Figures are recalculated each month which may result in revisions to historical data.
The Nationwide Monthly House Price Index is prepared from information which we believe is collated with care, but no representation is made as to its accuracy or completeness. We reserve the right to vary our methodology and to edit or discontinue the whole or any part of the Index at any time, for regulatory or other reasons. Persons seeking to place reliance on the Index for their own or third party commercial purposes do so entirely at their own risk. All changes are nominal and do not allow for inflation.
More information on the house price index methodology along with time series data and archives of housing research can be found at www.nationwide.co.uk/hpi
Photographs of our economists are available at: www.nationwide.co.uk/mediacentre/economist.asp
The above graph assumes 3.5% capital growth, a 5.5% initial rental yield, 5% annual rental growth (equal to trend nominal GDP growth), a 6.5% interest only mortgage, a 75% LTV, void periods of 3.5 weeks per year and property management fees in line with current market rates.
YOUR HOME MAY BE REPOSSESSED IF YOU DO NOT KEEP UP REPAYMENTS ON YOUR MORTGAGE
Think carefully before securing other debts against your home, your home may be repossessed if you do not keep up repayments on your mortgage.
Go Direct.co.uk is a trading style for website purposes of Go Direct UK Ltd.
Go Financial Services is a trading style of Go Direct UK Ltd which is an appointed representative of Personal Touch Financial Services Ltd which is authorised and regulated by the Financial Conduct Authority. Registered in England & Wales Company 5703224. FCA Number 456600
We normally do not charge a fee for mortgage advice, however this is dependent on your circumstances. Our typical fee would be £500