5 Apr 2020

Specialist UK Mortgages...

Expensive fixed mortgages only option for many
Fixed rate mortgages now account for 69% of the market, compared to 51% this time last year.
Despite a 2.61 percentage point drop in the two year swap rate between 1 October and today, the average two year fixed rate mortgage has only dropped by 0.71 percentage points.
The margin between the cost to the lender on the swap rate market and the rate at which they are offering mortgages to borrowers continues to increase. This time last year the gap was 1.12 percentage points, today it is 2.92 percentage points.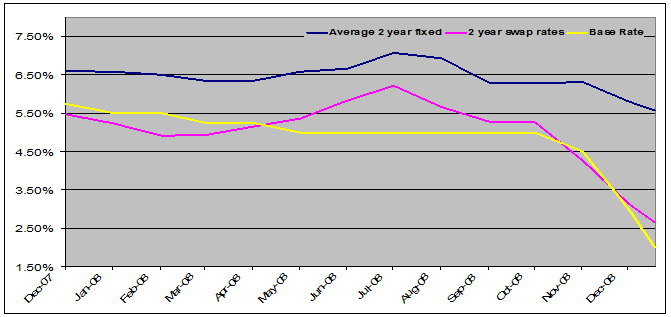 Michelle Slade, analyst at Moneyfacts.co.uk, comments:
"By not reintroducing cheaper tracker mortgages to the market, the lenders are leaving borrowers with little option but to go on to more expensive fixed rate mortgages.
"It is evident that lenders are continuing to increase their margins, despite a fall in the cost of funding.
"Affordability is a key issue for borrowers, who prefer fixed rate mortgages as a way of stabilising their monthly outgoings and could be a secure option to weather the storm of the imminent recession.
"Borrowers expect to pay a slightly increased price to fix their mortgage repayments compared to tracker deals. However, today the gap between the average two year fixed and tracker mortgage stands at 1.16%, compared to just 0.14% this time last year.
"It would appear that all lenders are adopting a similar approach, despite calls from the Government to pass on cuts to borrowers."
Moneyfacts Group
Moneyfacts is the UK's leading independent provider of personal financial information and our data is used and trusted throughout the financial industry.
YOUR HOME MAY BE REPOSSESSED IF YOU DO NOT KEEP UP REPAYMENTS ON YOUR MORTGAGE
Think carefully before securing other debts against your home, your home may be repossessed if you do not keep up repayments on your mortgage.
Go Direct.co.uk is a trading style for website purposes of Go Direct UK Ltd.
Go Financial Services is a trading style of Go Direct UK Ltd which is an appointed representative of Personal Touch Financial Services Ltd which is authorised and regulated by the Financial Conduct Authority. Registered in England & Wales Company 5703224. FCA Number 456600
We normally do not charge a fee for mortgage advice, however this is dependent on your circumstances. Our typical fee would be £500