9 Jul 2020


Lenders not reducing fixed rate mortgages
Customers with fixed rate mortgages are paying nearly twice the cost to lenders of funding on the money markets.
Today the average two-year fixed rate is 6.13%, compared with two-year swap rate at just 3.61%.
Before the credit crunch, the difference was just 0.10%. Although a bigger margin for risk is understandable, a 2.52% difference seems excessive.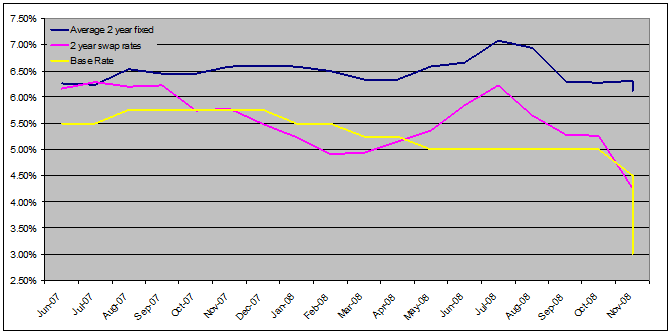 Michelle Slade, analyst at Moneyfacts.co.uk, comments:
"The average rate on fixed rate mortgages over the past few months has remained almost constant, despite the funding cost to lenders reducing significantly. Since the cut in base rate, the average fixed rate has dropped slightly but nowhere near the amount we would expect.
"Even allowing for a larger risk margin, the rate should be at least 1% lower, if not more.
"With all the current focus on tracker mortgages, fixed rates have slipped under the radar.
"Borrowers with fixed rate mortgages will be hoping these rates will now reduce significantly, so they can remortgage at a manageable level and deal with the effects of the impending recession.
"With base rate being cut borrowers are expecting to feel the benefit and they want to witness the cost of mortgages across the board being reduced. "
Moneyfacts Group
Moneyfacts is the UK's leading independent provider of personal financial information and our data is used and trusted throughout the financial industry.
Compare Mortgage Rates | Mortgage Payment Calculator | Mortgage Rates
YOUR HOME MAY BE REPOSSESSED IF YOU DO NOT KEEP UP REPAYMENTS ON YOUR MORTGAGE
Think carefully before securing other debts against your home, your home may be repossessed if you do not keep up repayments on your mortgage.
Go Direct.co.uk is a trading style for website purposes of Go Direct UK Ltd.
Go Financial Services is a trading style of Go Direct UK Ltd which is an appointed representative of Personal Touch Financial Services Ltd which is authorised and regulated by the Financial Conduct Authority. Registered in England & Wales Company 5703224. FCA Number 456600
We normally do not charge a fee for mortgage advice, however this is dependent on your circumstances. Our typical fee would be £500