13 Jul 2020


Mortgage fees rise 17% in a year
The average mortgage arrangement fee has increased by £151 over the last year – a rise of 17%.
In August 2010 the average fee was £879, today it stands at £1,030.
The highest fee on the market is £3,800, which is being charged by Accord Mortgages (through selected intermediaries).
Precise Mortgages charges the highest percentage arrangement fee at 2.00%.
Only 357 (12%) of mortgages charge no arrangement fee.
Date

Aug-10

Sep-10

Oct-10

Nov-10

Dec-10

Jan-11

Feb-11

Mar-11

Apr-11

May-11

Jun-11

Jul-11

Aug-11

Average Fee

£879

£942

£946

£907

£898

£889

£920

£963

£948

£957

£904

£1,002

£1,030

Source: Moneyfacts.co.uk 17.8.11
For a graph of the increase, see appendix.
Michelle Slade, spokesperson for Moneyfacts.co.uk comments:
"Lenders appear to be offsetting the low mortgage rates on offer by increasing the arrangement fees.
"The average arrangement fee has increased by 17% as lenders battle it out to offer the lowest headline rate.
"Percentage fees have become increasingly common, with one lender charging as much as 2%.
"Unfortunately too many borrowers still focus their initial attention on getting the best rate, without taking full consideration of the true cost of the deal.
"In many cases a low rate with a high fee can work out more expensive than opting for a slightly higher rate, but with a lower fee.
"12% of mortgages charge no arrangement fee and many of these regularly appear in the Moneyfacts best buy tables, which are based on true cost.
"With 2,873 mortgages available there is a raft of rate/fee combinations for borrowers to consider.
"The key to deciphering the maze of thousands of mortgages and getting the best deal is for borrowers to do their homework and shop around."
Appendix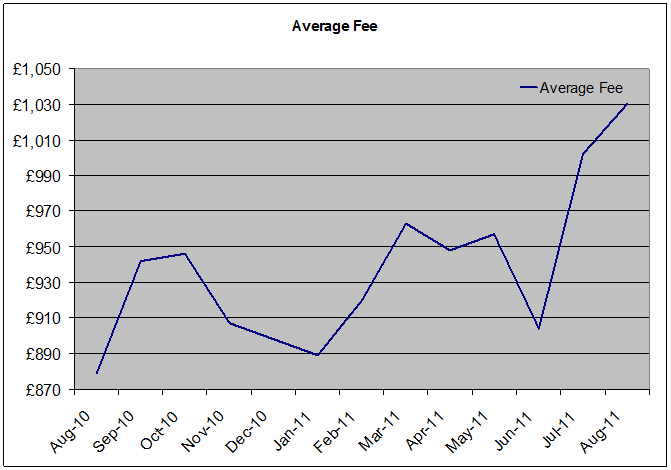 Moneyfacts Group
Moneyfacts is the UK's leading independent provider of personal financial information and our data is used and trusted throughout the financial industry.
YOUR HOME MAY BE REPOSSESSED IF YOU DO NOT KEEP UP REPAYMENTS ON YOUR MORTGAGE
Think carefully before securing other debts against your home, your home may be repossessed if you do not keep up repayments on your mortgage.
Go Direct.co.uk is a trading style for website purposes of Go Direct UK Ltd.
Go Financial Services is a trading style of Go Direct UK Ltd which is an appointed representative of Personal Touch Financial Services Ltd which is authorised and regulated by the Financial Conduct Authority. Registered in England & Wales Company 5703224. FCA Number 456600
We normally do not charge a fee for mortgage advice, however this is dependent on your circumstances. Our typical fee would be £500