16 Jul 2020


Savers can only watch as CPI enters a deeper vortex
The consumer price index again rose even sharper to 3.50%, nearly double the Government's target of 2%.
Savings rates are still falling after a flurry of lenders cut a selection of mortgage deals. The average no notice rate fell by 0.02% to 0.73% since last month.
A basic rate taxpayer currently needs to find a savings account that pays at least 4.38% in interest to stop their savings pot eroding away. A higher rate taxpayer has little chance to find an account that pays 5.83%.
Currently, there are no fixed rate bonds paying interest above 5.83%.
The recent published inflation figures shows that the real return after basic tax and inflation on an average no notice savings account is at a head shaking minus 2.92%, the lowest on record.
Darren Cook, Spokesman for Moneyfacts.co.uk, commented:
"Each month, inflation is cutting deeper into people's spending power and lower savings interest rates are creating an even bitterer pill to swallow.
"Those who are relying on their savings pot to subsidise other income are seeing their savings being eroded on average by 2.92% per year for a basic rate taxpayer and 3.06% for a higher rate taxpayer.
"Savers are hoping that this is just a short spike in inflation, but will lead to further aggravating issues if inflation does not fall as quickly as it is going up.
"Savers need to secure a gross return on their savings of at least 4.38% to break even. Higher rate taxpayers need to achieve the near impossible, by trying to find savings rates that return at least 5.83%."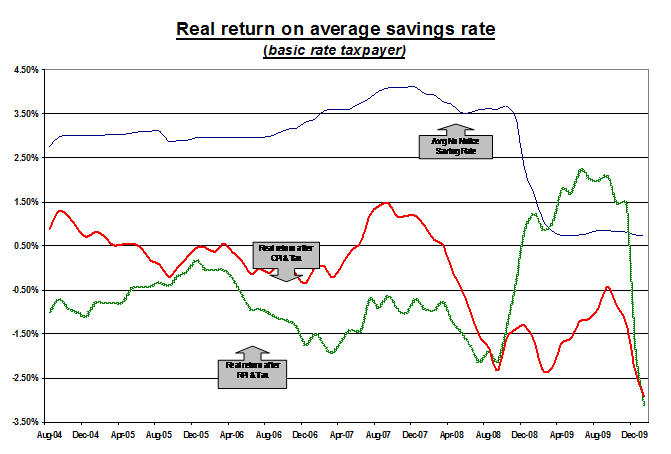 Moneyfacts Group
Moneyfacts is the UK's leading independent provider of personal financial information and our data is used and trusted throughout the financial industry.
YOUR HOME MAY BE REPOSSESSED IF YOU DO NOT KEEP UP REPAYMENTS ON YOUR MORTGAGE
Think carefully before securing other debts against your home, your home may be repossessed if you do not keep up repayments on your mortgage.
Go Direct.co.uk is a trading style for website purposes of Go Direct UK Ltd.
Go Financial Services is a trading style of Go Direct UK Ltd which is an appointed representative of Personal Touch Financial Services Ltd which is authorised and regulated by the Financial Conduct Authority. Registered in England & Wales Company 5703224. FCA Number 456600
We normally do not charge a fee for mortgage advice, however this is dependent on your circumstances. Our typical fee would be £500