5 Jul 2020

Specialist UK Mortgages...

Mortgage Lenders are keeping their mortgage products in the window for much longer
The average shelf life of a current mortgage deal now stands at 30 working days, the longest since August 2007, when the market was heavily subscribed with 9,549 products.
Could this be an indication that we are nearing the end of a volatile mortgage market and is there is still scope for more competition or are lenders waiting patiently to see what intentions a new Government may have?

Darren Cook, spokesperson at Moneyfacts.co.uk, commented:
"The extended shelf life of a mortgage product to 30 days coupled with falling average rates clearly demonstrates that parts of the market have become static.
"Only a few lenders are making significant cuts to their rates and competing for limited mortgage business.
"Many smaller lenders are unable to follow in the footsteps of some of the larger competitive players and have no alternative but to keep wide margins and simply can't afford to cut mortgage rates any further.
"The average shelf-life of a new mortgage product has nearly doubled in just one month from 17 days in March to 30 days during April and 26% less product rate changes took place over the same period.
"Lenders may be waiting to see what influences a new Government will have on this recovering mortgage market.
"A platform is developing and is getting ready for a resurgence of the market, but lending figures show us that there is still a lack of motivation from either new borrowers or lenders to transact in the current climate".
Average product shelf life/Availability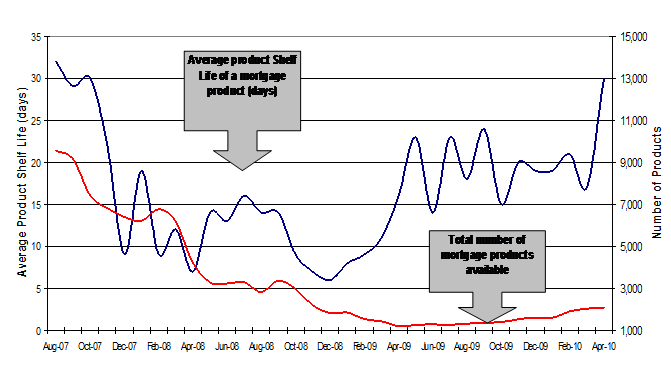 Moneyfacts Group
Moneyfacts is the UK's leading independent provider of personal financial information and our data is used and trusted throughout the financial industry.
YOUR HOME MAY BE REPOSSESSED IF YOU DO NOT KEEP UP REPAYMENTS ON YOUR MORTGAGE
Think carefully before securing other debts against your home, your home may be repossessed if you do not keep up repayments on your mortgage.
Go Direct.co.uk is a trading style for website purposes of Go Direct UK Ltd.
Go Financial Services is a trading style of Go Direct UK Ltd which is an appointed representative of Personal Touch Financial Services Ltd which is authorised and regulated by the Financial Conduct Authority. Registered in England & Wales Company 5703224. FCA Number 456600
We normally do not charge a fee for mortgage advice, however this is dependent on your circumstances. Our typical fee would be £500