26 Sep 2020


House price bounce extends into August
House prices rose by 1.6% in August
Year-on-year decline slows from -6.2% to -2.7%
Low interest rates helping to underpin prices for the moment
| | | |
| --- | --- | --- |
| Headlines | August 2009 | July 2009 |
| Monthly index * Q1 '93 = 100 | 317.9 | 313.0 |
| Monthly change* | 1.6% | 1.4% |
| Annual change | -2.7% | -6.2% |
| Average price | £160,224 | £158,871 |
* seasonally adjusted
Commenting on the figures Martin Gahbauer, Nationwide's Chief Economist, said:
"The price of a typical house rose for the fourth consecutive month in August, increasing by 1.6% on a seasonally adjusted basis. The 3 month on 3 month rate of change – generally a smoother indicator of the near term trend – rose from 2.7% in July to 3.3% in August, the highest level since February 2007. At £160,224, the average price of a typical UK property is still slightly lower than 12 months ago. However, the annual rate of change rose further in August, from -6.2% to -2.7%. Over the first eight months of 2009, the seasonally adjusted index of house prices has risen by 3.2%, though relative to the October 2007 peak it is down by 14.4%.
Inflation report signals that interest rates to stay low well into 2010
"There have been important developments in monetary policy this month, with possible implications for the housing market. Despite further signs of recovery in several key economic indicators, the Monetary Policy Committee (MPC) decided to leave interest rates unchanged at 0.5% and surprised financial markets by injecting a further £50bn of new money into the economy via its quantitative easing programme. The MPC appears to believe that even if the economy does return to growth in the second half of 2009, it will take a long time before the spare capacity left behind by the recession is used up again. As a result, consumer prices may be under significant downward pressure over the next 1-2 years, necessitating an accommodative monetary policy to keep inflation in line with the 2% target. The projections contained in the August Inflation Report signalled that this very loose monetary policy will remain in place for some time to come, with the base rate unlikely to increase until well into next year.
Low interest rates help to explain jump in prices …
"The exceptionally low level of interest rates offers some explanation for why house prices have not repeated the very sharp falls of 2008. There are two main channels through which the low level of interest rates has impacted the housing market. First, mortgage payments for existing homeowners – especially those with tracker or standard variable rate loans – have been reduced substantially. Before the MPC began cutting rates, the average interest and principal payment per mortgage holder represented about 38% of the average post-tax labour income. Following the steep cuts in base rate, this has fallen to just 28% of post-tax income, despite historically high levels of outstanding mortgage debt. The fall in debt servicing costs has meant that fewer homeowners are under immediate financial pressure to sell than might have been expected in a recessionary economic background with rising unemployment. Partly as a result, fewer second-hand properties have come onto the market than is normally the case in recessions, which has contributed to moving the balance of supply and demand more in favour of sellers over the course of 2009.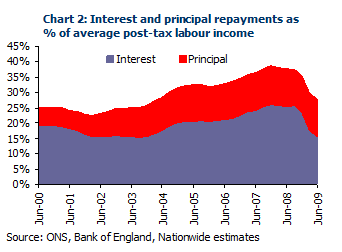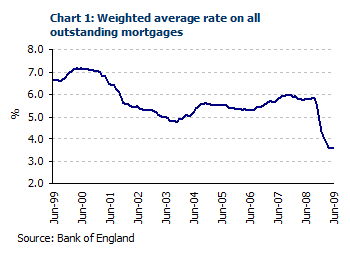 "In addition to limiting the supply of second-hand homes, lower interest rates have also had an impact on the demand side. Even though house prices remain high relative to earnings, the fall in interest rates has improved the affordability of mortgages for those looking to buy a home. This helps to explain the strong rise in new buyer enquiries reported by estate agents for most of 2009. Although not all of these enquiries are turning into sales, house purchase transactions have continued to slowly increase from the record lows reached in late 2008.
… but rates are unlikely to stay this low forever
"While low interest rates have clearly played a part in reversing the downward pressure on house prices, they are unlikely to stay at the current level forever. It is important to keep this in mind when interpreting recent price trends.
"If the various monetary and fiscal stimulus measures that have been introduced over the last year are successful in reviving growth on a sustained basis, then inflationary pressures will eventually re-emerge and necessitate an increase in interest rates to more normal levels. When this happens, it will probably have the effect of releasing additional supply back onto the market and dampening the recent rise in buyer interest. Under such conditions, the strong price increases of recent months would become difficult to sustain. At the moment, a rise in interest rates is probably still some way off. However, the eventual exit from exceptionally loose monetary policy could make the recovery in the housing market bumpier than some might expect after the last few months of price increases."
Martin Gahbauer Roy Beale
Chief Economist Media Relations Officer
Tel: 01793 655434 Tel: 01793 655689
martin.gahbauer@nationwide.co.uk roy.beale@nationwide.co.uk

Long Term Real House Price Trend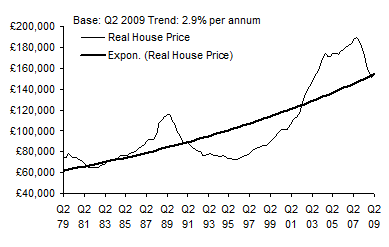 Average UK House Price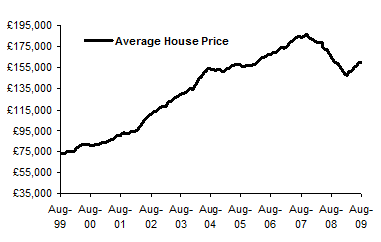 Annual % Change in House Prices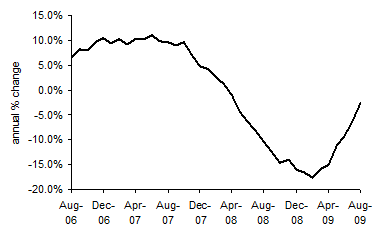 3 Months on Previous 3 Months % Change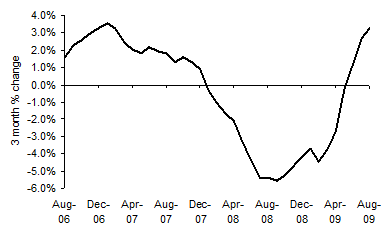 Historical Data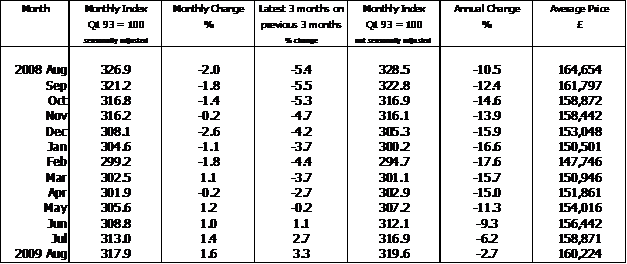 Notes:

Indices and average prices are produced using Nationwide's updated mix adjusted House Price Methodology which was introduced with effect from the first quarter of 1995. Price indices are seasonally adjusted using the US Bureau of the Census X12 method. Currently the calculations are based on a monthly data series starting from January 1991. Figures are recalculated each month which may result in revisions to historical data.
The Nationwide Monthly House Price Index is prepared from information which we believe is collated with care, but no representation is made as to its accuracy or completeness. We reserve the right to vary our methodology and to edit or discontinue the whole or any part of the Index at any time, for regulatory or other reasons. Persons seeking to place reliance on the Index for their own or third party commercial purposes do so entirely at their own risk. All changes are nominal and do not allow for inflation.
YOUR HOME MAY BE REPOSSESSED IF YOU DO NOT KEEP UP REPAYMENTS ON YOUR MORTGAGE
Think carefully before securing other debts against your home, your home may be repossessed if you do not keep up repayments on your mortgage.
Go Direct.co.uk is a trading style for website purposes of Go Direct UK Ltd.
Go Financial Services is a trading style of Go Direct UK Ltd which is an appointed representative of Personal Touch Financial Services Ltd which is authorised and regulated by the Financial Conduct Authority. Registered in England & Wales Company 5703224. FCA Number 456600
We normally do not charge a fee for mortgage advice, however this is dependent on your circumstances. Our typical fee would be £500