9 Jul 2020


Improving affordability helps new and existing buyers
House prices fell by 1.8% in February
More cuts in base rate expected
Falling rates reduce existing variable rate borrowers' typical payments by a third
New buyers see significant improvement in affordability
| | | |
| --- | --- | --- |
| Headlines | February 2009 | January 2009 |
| Monthly index * Q1 '93 = 100 | 298.3 | 303.8 |
| Monthly change* | -1.8% | -1.3% |
| Annual change | -17.6% | -16.6% |
| Average price | £147,746 | £150,501 |
* seasonally adjusted
Commenting on the figures Fionnuala Earley, Nationwide's Chief Economist, said:
"The price of a typical house fell by 1.8% in February, bringing the annual rate of change to -17.6% and the price of a typical house down to £147,746, from £179,358 this time last year. Sharp cuts in interest rates have helped affordability, but have not yet affected housing market confidence sufficiently to boost the levels of new transaction activity or slow the pace of house price falls. Early signs of increased interest in housing, as reported by the pick up in new buyer enquiries, have yet to filter into sales, but do suggest that falling prices and interest rates are raising curiosity now, which could flow through quickly once confidence returns.
"The February Inflation Report also implies that the MPC has not finished cutting interest rates yet. First, the Bank's economic forecast factoring in a 25bp cut, left inflation significantly below its target two years ahead and GDP contracting sharply. Second, Mervyn King clearly stated that "further easing may well be required" when asked how much further rates could fall – a sentiment subsequently echoed by other MPC members. Further cuts in rates will be welcome in the housing market, but the economic conditions that require them will mean that there is unlikely to be a swift turnaround in the housing market in 2009.
Falling mortgage costs may be helping retail sales
"Expenditure on housing, including rents, council tax, mortgages, maintenance and insurance, is one of the major components of household expenditure. The latest available data shows that it accounted for about one fifth of total household weekly expenditure in 2007. Amongst mortgage holders alone, the average weekly spend on mortgages was £138.80 per week, about 14% of the total household weekly spend. Given its share of the household budget, changes in housing costs can have a real impact on the overall disposable income of the household. In the current climate, falling interest rates have reduced the mortgage costs of existing variable rate borrowers by about a third. This provides substantial relief for borrowers who may otherwise have struggled with their payments and provides additional disposable funds for those who would not. The change in mortgage costs may be one of the factors behind the resilience of retail sales amid the deteriorating economic background.
Existing variable rate borrowers have seen mortgage payments fall by a third since 2007
"For existing borrowers on variable rates with a typical loan size, the reduction in interest rates since 2007 has led to a significant reduction in mortgage payments. About one third of the overall stock of mortgages is on a base-rate tracker mortgage . For these borrowers, the 4.5 percentage point fall in rates seen since the end of 2007 means that their monthly mortgage payments have fallen by around £240 per month. Those on standard variable rates have seen a fall of a similar amount. Unsurprisingly, those borrowers in the highest priced areas have seen the biggest change to their housing costs, with Londoners seeing monthly savings of more than £350 and those in the Northern region seeing nominal falls of just less than half this amount.
Table 1: Effect of Interest Rate Falls on Existing Borrowers' Monthly Mortgage Payments

Existing Owner Region

Average Balance

Change in mortgage payment Dec 07 – Feb 09

Dec-07

SVR

Tracker

Greater London

£153,526

-£359.07

-£379.49

South East

£120,275

-£281.30

-£297.30

South West

£97,458

-£227.94

-£240.90

East Anglia

£88,908

-£207.94

-£219.76

West Midlands

£82,865

-£193.81

-£204.83

East Midlands

£80,356

-£187.94

-£198.62

North West

£78,768

-£184.22

-£194.70

Yorkshire and Humberside

£75,600

-£176.81

-£186.87

Northern Ireland

£74,049

-£173.19

-£183.04

Wales

£73,209

-£171.22

-£180.96

Scotland

£70,855

-£165.72

-£175.14

Northern

£69,926

-£163.54

-£172.84

UK

£96,902

-£226.64

-£239.52

Source: Nationwide, Bank of England, CACI, Individual lender comparisons

Notes: 1. Assumes following rates: Dec 07 - 7.68% SVR, 6.20% Tracker. Feb 09 - 3.8% SVR. 1.70% Tracker (6.2%-4.5% cut in Bank Rate)

2. Dec 08 rates sourced Bank of England. Feb 09 SVR average of largest lenders having reviewed rates by 23 Feb 09
New buyers also benefit from improvement in affordability
"While existing variable rate borrowers have benefitted from the cut in rates almost immediately, those buyers wanting to enter the market for the first time will have seen both lower mortgage rates and lower house prices. A typical first time buyer at the end of 2007 would have paid about £150,000 for a property, borrowed about 90% of the value and paid an interest rate of around 6%, depending on the type of loan chosen. The monthly outgoing would have been about £915. However today, the reduction in house prices and mortgage rates means that outgoing would be around £530, if the buyer qualified for one of the best tracker deals of 3.99%. But this would require raising a deposit of over £25,000. Alternatively if such a large deposit was not available, a fixed rate at a 90% loan to value ratio would still cost £167 less than at the end of 2007, even though the fixed rate is higher. This is due to the fall in house prices, which also means these borrowers can put down a smaller deposit.
Table 2: Effect of interest rate and house price falls on a typical first time buyer
Dec-07

Feb 09 – tracker

Feb 09 - fixed

FTB house Price

£156,892

£125,584

£125,584

Mortgage rate

6.06%

3.99%

6.29%

LTV

90%

80%

90%

Loan

£141,203

£100,467

£113,026

Monthly Payment

£915

£530

£748

Difference in payment

-£385

-£167

Deposit

£15,689

£25,117

£12,558

Source: Nationwide, Bank of England

Note:1 Feb 09 FTB price estimated at 85% of typical house price 2. Dec 07 discounted 2 year 95% 3. Feb 09 rates are FTB rates available at 80% and 90% on 24/02/2009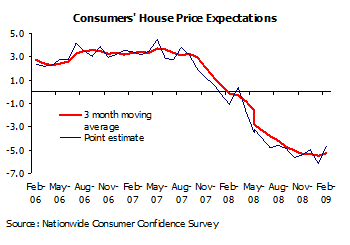 "The significant reduction in price and the cost of mortgages may be two of the factors behind the rise in buyer enquiries reported by estate agents. But the fact that this has yet to feed into actual housing transactions means other factors are at play. For one, the ability to raise a larger deposit is acting as a constraint. In addition, consumers' expectations of house price growth are still falling and this is likely to dissuade many from moving just now. However, there are some very early signs that borrowers are perhaps becoming a little more optimistic about the path of house prices. The pace of fall in consumers' expectations of future house prices has moderated, which could suggest that confidence in the market may begin to pick up later this year.
"While lower interest rates alone will not lead the housing market to suddenly pick up, more affordable loans will provide support for both new and existing borrowers in the weak economic environment. It is too early to say that the market has reached its trough, given the economic recession, however, falling house prices and interest rates have made the situation for borrowers today much easier than it might have been."
Fionnuala Earley Roy Beale
Chief Economist Media Relations Officer
Tel: 01793 656370 Tel: 01793 655689
fionnuala.earley@nationwide.co.uk roy.beale@nationwide.co.uk
Average UK House Price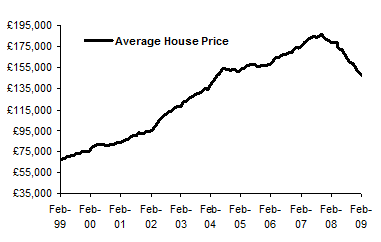 Long Term Real House Price Trend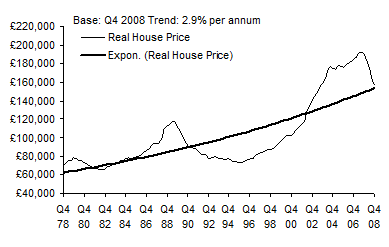 Annual % Change in House Prices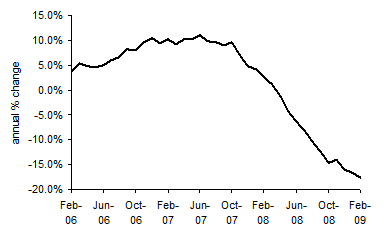 3 Months on Previous 3 Months % change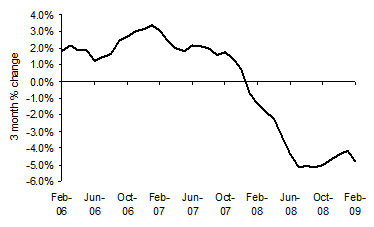 Historical Data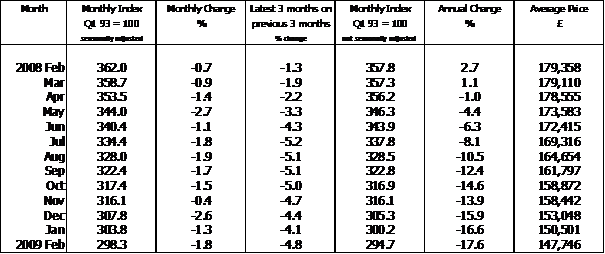 Notes:

Indices and average prices are produced using Nationwide's updated mix adjusted House Price Methodology which was introduced with effect from the first quarter of 1995. Price indices are seasonally adjusted using the US Bureau of the Census X12 method. Currently the calculations are based on a monthly data series starting from January 1991. Figures are recalculated each month which may result in revisions to historical data.
The Nationwide Monthly House Price Index is prepared from information which we believe is collated with care, but no representation is made as to its accuracy or completeness. We reserve the right to vary our methodology and to edit or discontinue the whole or any part of the Index at any time, for regulatory or other reasons. Persons seeking to place reliance on the Index for their own or third party commercial purposes do so entirely at their own risk. All changes are nominal and do not allow for inflation.
More information on the house price index methodology along with time series data and archives of housing research can be found at www.nationwide.co.uk/hpi
YOUR HOME MAY BE REPOSSESSED IF YOU DO NOT KEEP UP REPAYMENTS ON YOUR MORTGAGE
Think carefully before securing other debts against your home, your home may be repossessed if you do not keep up repayments on your mortgage.
Go Direct.co.uk is a trading style for website purposes of Go Direct UK Ltd.
Go Financial Services is a trading style of Go Direct UK Ltd which is an appointed representative of Personal Touch Financial Services Ltd which is authorised and regulated by the Financial Conduct Authority. Registered in England & Wales Company 5703224. FCA Number 456600
We normally do not charge a fee for mortgage advice, however this is dependent on your circumstances. Our typical fee would be £500