13 Jul 2020


Low savings rates but real returns continue to climb
Savings rates look to have ended their freefall, with the average no notice rate hovering around 0.65%, marginally above bank base rate.
Today's published inflation figures shows that the real return after basic tax and inflation on an average no notice savings account is 1.73 per cent for Retail Price Index (RPI) for Consumer Price Index (CPI) is still in the negative at minus 1.77 per cent.
Darren Cook, Analyst at Moneyfacts.co.uk, commented:
"Unfortunately low interest rates are geared to encourage savers to plough their savings back into the economy, but this serves little or no benefit to those who rely on interest from their hard earned wealth to subsidise their pension.
"Using both inflationary indices, the real return on savings interest is showing a pleasing upward trend for RPI, up 0.67 per cent on last month.
"Due to the make up of RPI, the only beneficiaries of this positive real return are those that have recently benefited from cheap monthly mortgage repayments.
"Mortgage-free pensioners who are relying on savings interest to subsidise their income are seeing their expenses rise by CPI at 2.30 per cent and their savings fall by 1.77 per cent in real terms".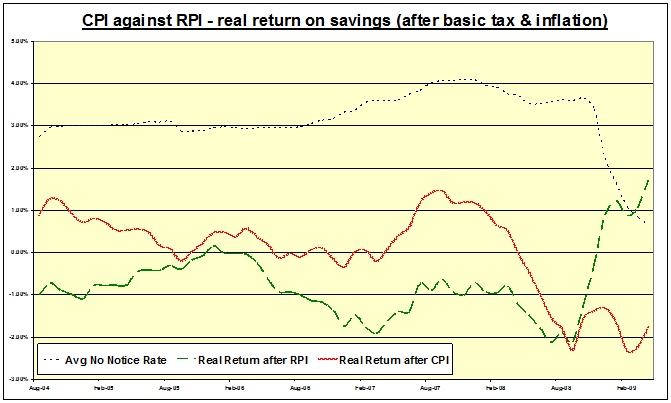 Moneyfacts Group
Moneyfacts is the UK's leading independent provider of personal financial information and our data is used and trusted throughout the financial industry.
YOUR HOME MAY BE REPOSSESSED IF YOU DO NOT KEEP UP REPAYMENTS ON YOUR MORTGAGE
Think carefully before securing other debts against your home, your home may be repossessed if you do not keep up repayments on your mortgage.
Go Direct.co.uk is a trading style for website purposes of Go Direct UK Ltd.
Go Financial Services is a trading style of Go Direct UK Ltd which is an appointed representative of Personal Touch Financial Services Ltd which is authorised and regulated by the Financial Conduct Authority. Registered in England & Wales Company 5703224. FCA Number 456600
We normally do not charge a fee for mortgage advice, however this is dependent on your circumstances. Our typical fee would be £500