13 Aug 2020


Bond shelf-life hits new low
Savers looking to take out a fixed rate bond need to act fast after the average bond shelf-life fell to a new low of 23 days last month.
At its peak in March 2006, the average shelf-life of a fixed rate bond was 158 days.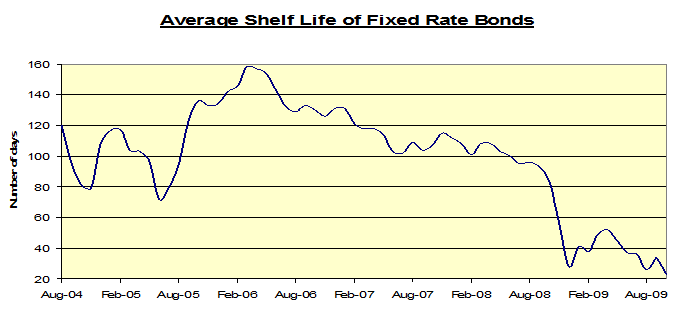 Nov 08

Dec 08

Jan 09

Feb 09

Mar 09

Apr 09

May 09

Jun 09

Jul 09

Aug 09

Sept 09

Oct 09

Fixed Rate Bond Shelf-life (days)

57

28

41

38

49

52

45

37

36

26

34

23

Source: Moneyfacts.co.uk 16.11.09
Michelle Slade, spokesperson for Moneyfacts.co.uk commented:
"The demand for fixed rate investments continues to increase as savers look to maximise returns.
"Such high demand means that bonds are being fully subscribed quickly, causing providers to pull many of the most competitive deals and replace them with new issues.
"Historically the average shelf-life of a fixed rate bond was around 120 days, but this has fallen sharply as base rate has plummeted.
"Moneyfacts research shows that 34% of all savings searches are for fixed rate bond with the average amount invested standing at £40,076.
"Savers with maturing one year bonds will have seen the maximum interest rate available fall from 6.70% last year to 3.95%.
"Savers with average amount invested will have seen the interest earned on their money fall by £1,157 to £1,612.
"If you want to secure the best deal, then act fast."
Moneyfacts Group
Moneyfacts is the UK's leading independent provider of personal financial information and our data is used and trusted throughout the financial industry.
YOUR HOME MAY BE REPOSSESSED IF YOU DO NOT KEEP UP REPAYMENTS ON YOUR MORTGAGE
Think carefully before securing other debts against your home, your home may be repossessed if you do not keep up repayments on your mortgage.
Go Direct.co.uk is a trading style for website purposes of Go Direct UK Ltd.
Go Financial Services is a trading style of Go Direct UK Ltd which is an appointed representative of Personal Touch Financial Services Ltd which is authorised and regulated by the Financial Conduct Authority. Registered in England & Wales Company 5703224. FCA Number 456600
We normally do not charge a fee for mortgage advice, however this is dependent on your circumstances. Our typical fee would be £500