14 Jul 2020


House prices now at the same level as September 2008
House prices rose by 0.9% in September, the fifth consecutive monthly increase
High supply of rental property raises questions about durability of price recovery
| | | |
| --- | --- | --- |
| Headlines | September 2009 | August 2009 |
| Monthly index * Q1 '93 = 100 | 320.6 | 317.8 |
| Monthly change* | 0.9% | 1.4% |
| Annual change | 0.0% | -2.7% |
| Average price | £161,816 | £160,224 |
* seasonally adjusted
Commenting on the figures Martin Gahbauer, Nationwide's Chief Economist, said:
"The recent upward momentum in house prices has continued into September, with the price of a typical house increasing by 0.9% on a seasonally adjusted basis. The 3 month on 3 month rate of change – generally a smoother indicator of the near term trend – rose from 3.3% in August to 3.8% in September, the highest level since August 2004. At £161,816, the average price of a typical UK property was essentially unchanged from a year earlier, representing the first time since March 2008 that the year-on-year rate of change has not been negative. Over the first nine months of 2009, the seasonally adjusted index of house prices has risen by 4.1%, though relative to the October 2007 peak it is still down by 13.5%.
"The further increase in house prices is very much consistent with improvements in a broad range of economic and financial indicators over the last few months, all of which suggest that the most intense phase of the recession and financial crisis has probably passed. However, given that the housing market still faces considerable headwinds in the form of high unemployment, restrictive credit conditions and an impending withdrawal of the stamp duty holiday, it would be surprising to see house prices continuing to increase at the very strong rate seen in recent months.
Housing turnover continues to edge higher from record lows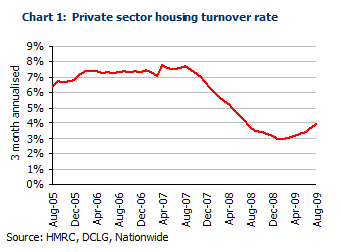 "One reason to remain cautious about the outlook for house prices is that turnover in the market is still well below normal levels. The housing turnover rate – measuring the percentage of the private sector housing stock changing hands on an annualised basis – fell to only 3% at the end of 2008. Although it has since recovered to nearly 4%, there is still quite some way to go before turnover reaches the pre-downturn level of between 7% and 8%. Lead indicators, such as mortgage approvals for house purchase, suggest that turnover should continue edging higher over the next few months, but at the current rate of increase it would take another 18 months for it to reach pre-downturn levels.
"There is usually a fairly strong correlation between housing turnover and house price inflation. Under normal circumstances, the current turnover rate would probably still be too low to be consistent with positive house price inflation. However, during periods when only a small proportion of the housing stock is available for sale, even a relatively low turnover rate can be consistent with increasing house prices. There is widespread evidence that this has been the case so far this year, which explains much of the rebound in house prices since the February trough.
Rents still subdued even as house prices rise
"One of the key questions facing the outlook for house prices is whether the supply of homes available for sale will remain at current lows. To shed light on this question, trends in the rental market are worth watching particularly closely at the current juncture. The downturn in housing turnover over the last two years has prompted many home movers to let their old properties out rather than sell. The option to let has enabled many to move home even without being able to sell their old properties at the desired price. The rationale behind the letting option is to use the rental income from the tenancy toward maintenance of the old property, until such time as the housing market recovers to a point where a sale at something closer to the desired price is possible. Such an approach is most viable for outright owners or those with only small mortgages, as the rental income would in all likelihood cover the cost of running the property plus any mortgage repayments.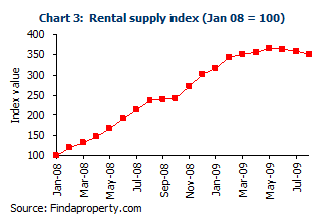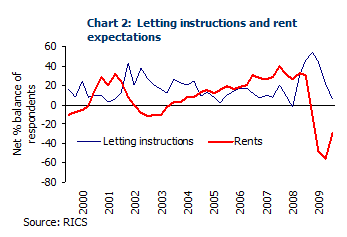 "The surge in so-called 'accidental landlords' has limited the supply of property in the sales market and increased the stock of homes available to let. These differing supply trends have led to diverging price trends between the sales and lettings markets. Whereas house prices have risen by 4.1% year to date, the available evidence suggests that rents are currently lower than where they started the year, thus putting downward pressure on rental yields. Although the drop in yields has been offset by large declines in interest rates over the last year, one cannot expect rents and house prices to move in opposite directions indefinitely.
"Over recent months the increase in 'accidental landlords' seems to have tapered off, which may indicate that some of this elevated rental supply is returning to the sales market, with possible negative implications for house prices. Much will of course depend on how quickly supply shifts from lettings to sales and what demand conditions look like when it does. All else equal, one would expect an increase in property available for sale to put downward pressure on house prices. This need not be the case if the new supply is matched by new demand, but rising unemployment and tight credit conditions suggest that demand may remain sluggish in the near term. The impact of additional supply from 'accidental landlords' will also depend on how many of them are themselves renting in their new location. Those who are renting will probably be looking to buy again when they manage to sell their old property, in which case the net impact on the supply-demand balance and house prices would be neutral.
"Nonetheless, the high incidence of 'accidental landlords' is a fairly unique set of circumstances that complicates the future outlook for house prices."
Martin Gahbauer, CFA Roy Beale
Chief Economist External Communications Officer
Tel: 01793 655434 Tel: 01793 655689
martin.gahbauer@nationwide.co.uk roy.beale@nationwide.co.uk
Average UK House Price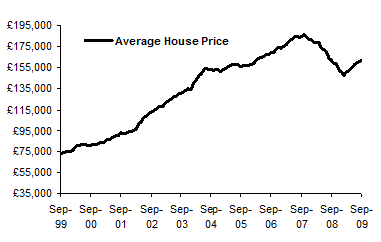 Long Term Real House Price Trend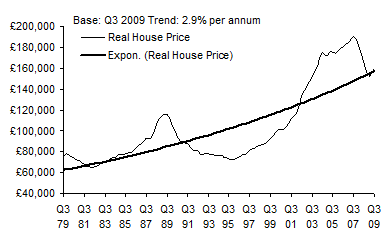 3 Months on Previous 3 Months % Change

Annual % Change in House Prices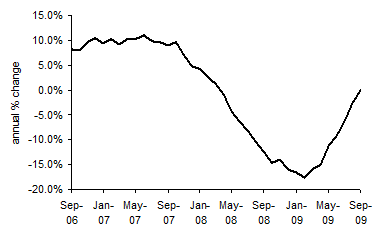 Historical Data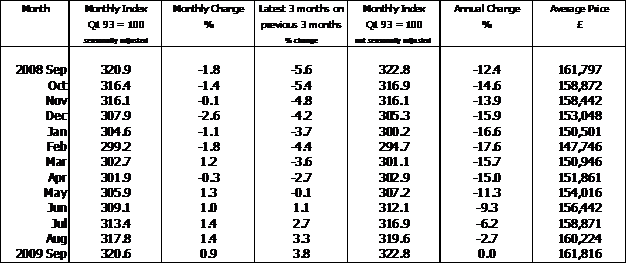 Notes:

Indices and average prices are produced using Nationwide's updated mix adjusted House Price Methodology which was introduced with effect from the first quarter of 1995. Price indices are seasonally adjusted using the US Bureau of the Census X12 method. Currently the calculations are based on a monthly data series starting from January 1991. Figures are recalculated each month which may result in revisions to historical data.
The Nationwide Monthly House Price Index is prepared from information which we believe is collated with care, but no representation is made as to its accuracy or completeness. We reserve the right to vary our methodology and to edit or discontinue the whole or any part of the Index at any time, for regulatory or other reasons. Persons seeking to place reliance on the Index for their own or third party commercial purposes do so entirely at their own risk. All changes are nominal and do not allow for inflation.
More information on the house price index methodology along with time series data and archives of housing research can be found at www.nationwide.co.uk/hpi
YOUR HOME MAY BE REPOSSESSED IF YOU DO NOT KEEP UP REPAYMENTS ON YOUR MORTGAGE
Think carefully before securing other debts against your home, your home may be repossessed if you do not keep up repayments on your mortgage.
Go Direct.co.uk is a trading style for website purposes of Go Direct UK Ltd.
Go Financial Services is a trading style of Go Direct UK Ltd which is an appointed representative of Personal Touch Financial Services Ltd which is authorised and regulated by the Financial Conduct Authority. Registered in England & Wales Company 5703224. FCA Number 456600
We normally do not charge a fee for mortgage advice, however this is dependent on your circumstances. Our typical fee would be £500