16 Jul 2020

Specialist UK Mortgages...

Biggest isn't always best in the mortgage market
The fallout from the credit crunch and predicted falling house prices have forced lenders to consider their positions in the market and reassess their attitude to risk based lending. Denise Harvey, mortgage analyst from moneyfacts.co.uk looks at the position of the UK's largest lenders in today's market.
"Research carried out by moneyfacts.co.uk shows that, from the top 250 mortgages* in the market today, only 68 (27%) are offered by the top 10 lenders**. This is a surprising statistic considering these lenders took 75% of the market share in 2006.
"Post credit crunch some of the larger lenders have appeared to have suffered the most, previously they had been able to fund a large section of their lending through the money markets, but today that just isn't possible.
"From the results it is clear that the larger institutions with smaller subsidiary companies such as RBS Group with brands such as First Active, Natwest and Direct Line and its Irish subsidiary Ulster Bank are offering more competitive mortgages.
"Of the 68 products, The Royal Bank of Scotland Group offered 26 these came from 9 separate brands, second came HSBC with 13 products, 5 offered by the increasingly competitive subsidiary First Direct. Northern Rock, Alliance and Leicester and GMAC all failed to appear in the top 250.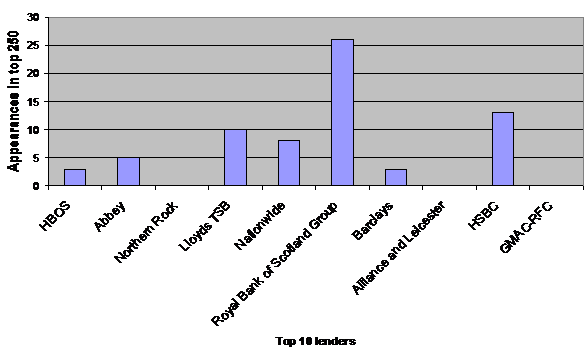 "These results clearly show that the larger institutions, especially banks, are not offering the most competitive products. Failure to find enough funding could be one reason, but reliance on their brand name and our loyalty has to play a part.
"One glance at our best buy tables just goes to show the competiveness of the smaller building societies. http://www.moneyfacts.co.uk/mortgages/bestbuys/default.aspx
"In a time when many are struggling to find a suitable mortgage these results show that it is definitely worth looking around for the best deal. Going for a smaller, less well known lender may well save you money."
* Top 250 mortgages compiled from the following:
| | | |
| --- | --- | --- |
| | Remortgage case. Loan £135K, property £180K, LTV 75% | First time buyer case. Loan £120K, property £127K, LTV 95% |
| 2 year fixed rate | 25 | 25 |
| 5 year fixed rate | 25 | 25 |
| 10 year fixed rate | 20 | 20 |
| 2 year variable rate | 25 | 25 |
| 5 year variable rate | 22 | 8 |
| Variable for term | 15 | 15 |
** Top ten lenders by gross mortgage lending in 2006 according to the Council of Mortgage Lenders.
Moneyfacts Group
Moneyfacts is the UK's leading independent provider of personal financial information and our data is used and trusted throughout the financial industry.

YOUR HOME MAY BE REPOSSESSED IF YOU DO NOT KEEP UP REPAYMENTS ON YOUR MORTGAGE
Think carefully before securing other debts against your home, your home may be repossessed if you do not keep up repayments on your mortgage.
Go Direct.co.uk is a trading style for website purposes of Go Direct UK Ltd.
Go Financial Services is a trading style of Go Direct UK Ltd which is an appointed representative of Personal Touch Financial Services Ltd which is authorised and regulated by the Financial Conduct Authority. Registered in England & Wales Company 5703224. FCA Number 456600
We normally do not charge a fee for mortgage advice, however this is dependent on your circumstances. Our typical fee would be £500