5 Jul 2020


The decline of sub prime mortgage lending – where will it end?
It seems that the effects from the credit crunch on the sub prime mortgage market are far from over. Julia Harris, mortgage analyst from moneyfacts.co.uk looks at recent changes to the ever-depleting market.
"Over the last week we have seen a host of sub prime lenders including Amber Homeloans, Scarborough Specialist Mortgages and SALT cease new lending of sub prime mortgages. In addition Northern Rock has announced that it will no longer be offering sub prime mortgages funded by Southern Pacific Mortgage Limited.
"This is in huge contrast to what was happening last year. In March 2007 there were 32 lenders offering sub prime mortgages; today there are only 20. The number of mortgages available to those with adverse credit is dropping as well. A year ago there were 6,501 products available; today there are 1,867, a drop of 71%.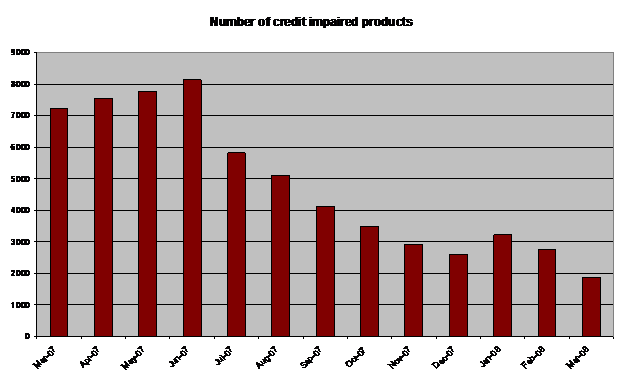 "Lenders are finding it increasingly difficult to find funding for sub prime mortgages. Investment banks have been hit hard by the troubles facing the US sub prime market and therefore are less willing or able to securitise the mortgage books of UK sub prime lenders.
"In a society where we continue to witness ever-increasing debt problems, this is going to limit the options available to those that have to resort to sub prime borrowing. This is yet another way of preventing people getting on the housing ladder and in some cases even pushing them off it.
"Amber, Scarborough Specialist and SALT are all specialist arms of building societies, formed when the market was booming, property prices were on the up and funding was cheap. Some building societies took the opportunity to make the most of the market and set up sub prime arms. Rather than adding to their existing mortgage ranges, separate arms were set up in order to keep funding and processes separate and to protect the original brand.
"Not only have we seen lenders dropping out of the market but where they continue to run they have to cut costs in order to survive. The non-stop reports of cutbacks and redundancies are a clear sign of this.
"The latest withdrawals from the market have come in what appears to be a second phase of tightening. Towards the end of 2007 we saw a severe drop in the number of sub prime mortgages available. Many lenders cut the volume of products they were offering but did not withdraw completely – in the hope that the market would recover. Now lenders are facing up to the reality that things are not going to get better in the near future. In fact it seems that there is more blood on the carpet yet to be spilt.
"Whether or not this is the start of the end of sub prime mortgage lending in the UK cannot be determined yet, but the range of products on offer today is certainly very different to that that we saw last year."
"The sector remains considerably weaker than a year ago, yet the demand for sub prime mortgages looks set to grow further over the coming months.
"Rising energy, petrol and food costs are forcing consumers to tighten their belts, while reliance on increasingly expensive unsecured credit as a safety net is becoming more common.
"Although growing numbers of borrowers are set to slip into sub prime borrower status, the market shows no signs of being able to satisfy this heightened demand."
Moneyfacts Group
Moneyfacts is the UK's leading independent provider of personal financial information and our data is used and trusted throughout the financial industry.

YOUR HOME MAY BE REPOSSESSED IF YOU DO NOT KEEP UP REPAYMENTS ON YOUR MORTGAGE
Think carefully before securing other debts against your home, your home may be repossessed if you do not keep up repayments on your mortgage.
Go Direct.co.uk is a trading style for website purposes of Go Direct UK Ltd.
Go Financial Services is a trading style of Go Direct UK Ltd which is an appointed representative of Personal Touch Financial Services Ltd which is authorised and regulated by the Financial Conduct Authority. Registered in England & Wales Company 5703224. FCA Number 456600
We normally do not charge a fee for mortgage advice, however this is dependent on your circumstances. Our typical fee would be £500